The Story Behind Edwards Roofing
---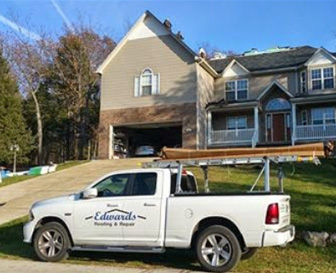 At 16 years old, I started my first job at a roofing company during the summer of 1992. I had a friend whose father owned a roofing company, which made it convenient for me to get a summer job. I was a laborer on the crew, setting up and cleaning up the work site every day. There was a lot of things I liked about the trade immediately after I started: working in high areas outside, and being at a different work site almost every day. About 3 years and 1 different crew later, I started installing and conducting repair work. I always kept my eyes and my ears open and was learning something new about the trade every day. I was never a good student in school and knew my place was on the roof, not a classroom (Mom was not happy). By the time 2002 came around, after working for a total of 4 different contractors, I knew how to install and repair any sloped roofing system and many different commercial flat applications. By this time, I constantly had self employment in my mind.
In April of 2002 I registered the name 'Edwards Roofing & Repair' with the Missouri Secretary of State.

Remember this logo? Our original logo has been updated as our company has evolved from roofing and repair to all of your exterior needs!
I hired a couple of guys, strapped a ladder on my 1996 Nisan Pathfinder, purchased a few roofing tear-off shovels, an air compressor, a couple of nail guns and some insurance. Slowly but surely, I started contracting work on my own. Having just getting started independently I didn't always have work. To fill in for those days, I sub-contracted for a small hand-full of different roofing contractors. I was operating in this manner for about 6 and a half years. I knew if I was always consistent and provided a good job for my customers, eventually my business would grow out of the infancy stage. I always told myself "no matter what, always do anything in your power, never to leave a customer unhappy". Knowing that with time and consistency, my word of mouth market will eventually evolve.
Right at the end of the summer of 2008, I had to quit managing a crew so I would be able to keep up with consulting my growing number of customers. I started with one crew of roofing installers, who actually still work for me to this day. I also started working a crew of gutter installers and a crew for siding. I quit sub-contracting and became a full-time competitor, 100% on my own. I had also ended up becoming a credentialed contractor with the oldest manufacturer of roofing materials in the country, CertainTeed. I was also an accredited business with the Better Business Bureau with an 'A+'.
By the time 2011 came around I was lucky enough to have a good handful of devoted customers. I had developed good business relationships with a couple of big clients like Mercy and The Wellington Group. I also had developed relationships with insurance agents who now trust me to give them honest assessments on whether or not their client/clients should file claims of loss with their home owners insurance policy. I had developed the capability to handle any type of commercial roofing system, no matter the size or application. Soon enough I had even started contracting and coordinating more exterior trades like fences, decks, retaining walls and windows.
I believe working my way up from the bottom of the roofing trade for over 25 years has given me a superior knowledge about the trade. As a contractor it has given me a great advantage over a lot of other roofing contractors. I can quickly identify any type of roofing issues half the time without even putting a ladder up. The installers perspective also enables me to be a great consultant, helping you achieve any roofing and exterior goal for your home within your budget. It also helps me keep cost down to a minimum while at the same time not cutting any corners. Having worked a few years as a sub-contractor for other contracting firms helped me realize what makes a contractor either bad, good or great. Here is my pledge to you... My staff and I will never attempt to sell you anything you do not actually need. I will always make sure my contracts are very detailed so there are never any surprises. I will always do my best at making sure what we tell you is going to happen actually happens. Your representative, whether it's one of my staff or myself will always be readily available for any questions or concerns you may have. Also on most residential jobs we do not expect to be paid in full until you are completely satisfied with your perfect job.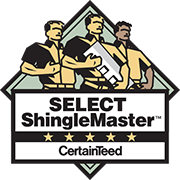 Now in 2017, over 25 years after my first roofing laborer position and 15 years of being in business on my own,we are still growing year after year. I am capable to offer my customers the absolute best warranties in the industries. If anything, my competition may only be able to match my warranties. I hire nothing but professional installers and make sure they all attend the classes required by CertainTeed to retain our 'Select Shingle Master' status. I make sure that it is easy for my customers to keep in touch with a representative or myself so we are able to be at their beck and call for any questions and concerns from start to finish, beginning at our first meeting. I have 3 teenagers who are showing various degrees of interests in getting involved with the family business. Only time will tell what they decide to do when they are finished with school. My goals are only to grow at a natural pace, keep conducting business in a fair and honest manner, and to keep selling my customers the best products on the market. My family and I love running this business. It is always an honor and pleasure to meet and serve other families in the community every day.
I want to thank you for your time, consideration and the opportunity to earn your business.
Most respectfully,
Edward S. Aguado (Owner)